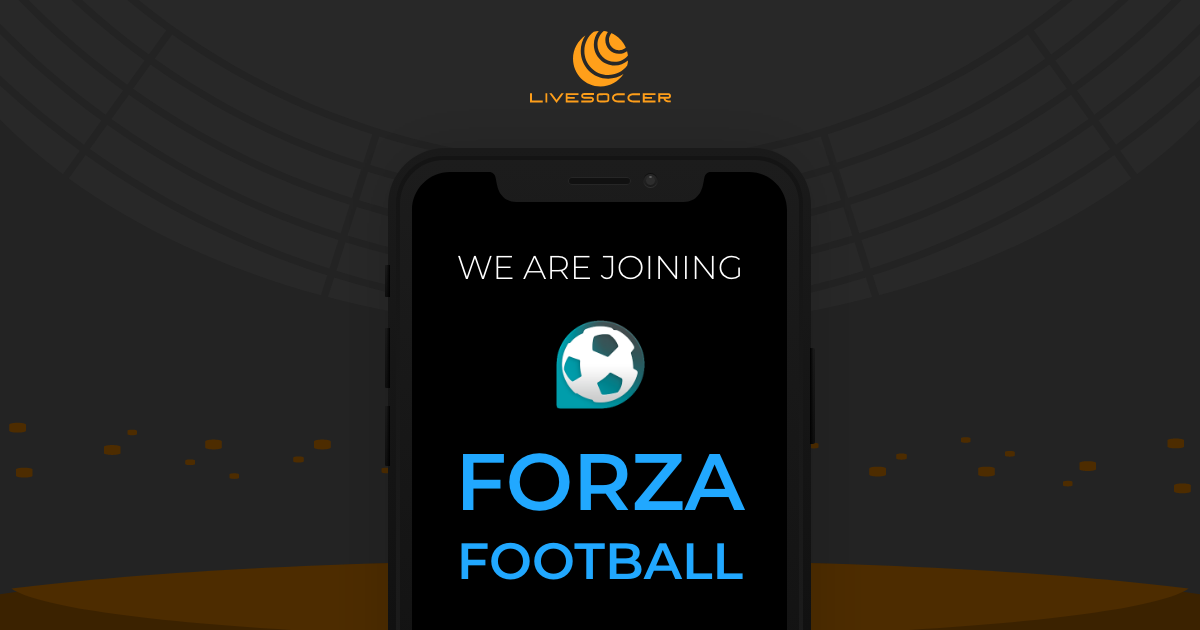 LiveSoccer is joining Forza Football
Coimbra, 31st of August of 2022 – LiveSoccer is joining Forza Football, in order to provide the best experience to Football fans around the world. 
LiveSoccer, created in 2013 by Present Technologies, is an app that allows users to follow over 350 leagues around the world and get fully customized real time events. The app has been downloaded over a million times in 227 countries and territories around the World. Through the years, the app got 109 million sessions and over 700 million screen views on all platforms.
"We started ten years ago with the dream of creating an innovative real-time sports app and now the time has come to level up by joining the big players so we can be stronger together", says Victor Batista, Present Technologies' co-founder and CEO. "Forza Football was one of the top apps in the field from the start, showcasing constant innovation and showing the utmost care for its users, so it's thrilling for LiveSoccer to join such football royalty and thus provide the best service to our lifelong users".
From the end of August, LiveSoccer users will be invited to install Forza Football and start using it. The partnership is more than just the app though, with a broader remit encompassing the technical services that Forza Football might need as well as the technological know-how that  Present Technologies is widely known for.
Jonas Linne,CEO, Forza Football, added: "We are delighted to have been chosen by Livesoccer for this transition and it speaks volumes of the product we have built at Forza Football and continue to improve on. We look forward to onboarding LiveSoccer users to the Forza Football app and we will do our very best to enable a smooth transition". 
This fantastic news comes at a time when the new football seasons in the main leagues are starting, and a much anticipated FIFA World Cup 2022 is approaching.
About Forza Football
Forza Football is the Swedish based tech company developer behind the popular app Forza Football. 
Forza Football enables users to track particular teams, leagues, players and matches with fast push notifications for goals, lineups, videos and more.
Forza Football has around 2 million monthly active users and over 40% of Forza Football users check the app every day.
The app has extensive coverage with over 420 leagues from around the world. 
Our mission is to make the world of football a better place, and available for everyone. Therefore we're working to promote equality in various forms including fighting homophobia and racism. In addition, Forza Football wants to use the power of football for change and we have a football academy in Cambodia, where we train and equip kids in life skills. 
To find out more about Forza Football, contact: jonas@forzafootball.com  
About Present Technologies
LiveSoccer was developed by Present Technologies which is a global software company headquartered in Portugal and focused on Mobile solutions, Web, and Enterprise, both in Bespoke software development and Nearshoring.
The company is committed to innovation in products and services through the use of state-of-the-art technology, and its goal is, through research and development, to continuously contribute new concepts, ideas, and methods for ground-breaking solutions and services in the IT industry.
From large-scale digital platforms to market-leading mobile apps, Present Technologies' partners trust them to build reliable software used everyday by millions of users.
 Find out more about Present Technologies here: https://www.present-technologies.com/
Related Posts
Comments are closed.