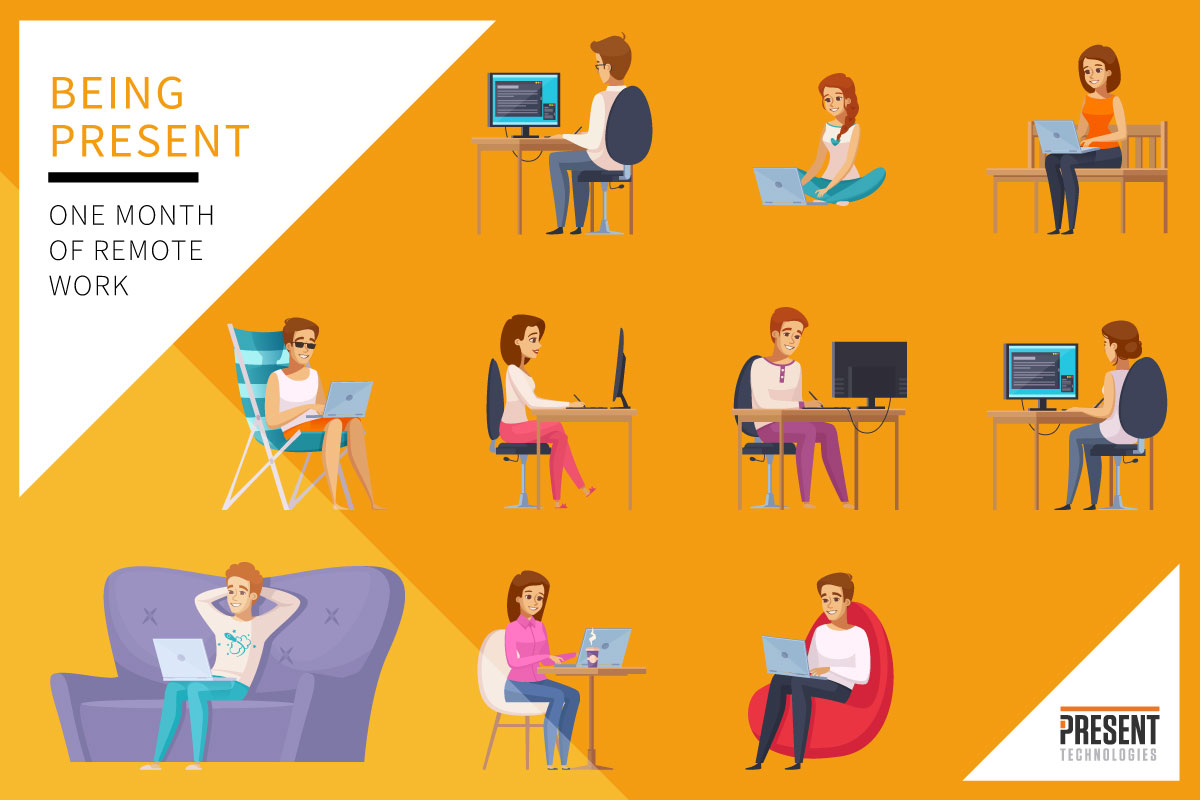 A month with more than 60 offices
It has been one month since we at Present decided to close our offices and start remote work for all our employees. Yes, a month, and many of you are now thinking, how is it possible that only a month has gone by!
In only 24 hours, we went from 3 offices to more than 60 offices spread all over the country. It was the first major challenge of these new times, that we turned into our first victory. No partner or client has noticed any difference in the responsibility, passion, creativity, authenticity and pride that we always put in all projects.
When we have a team that really cares, everything becomes easier!
At Present we share a set of values that make us what we really are, a big and happy family! A family needs proximity and complicity, it needs those moments of unplanned fun, it needs the sharing of experiences during lunchtime, it needs the moments of relaxation by the lounge area, it needs the ordinary conversations on the balcony, in short, we all need each other.
And how I miss that! Damn you, COVID-19.
I miss the old Present, but I can't help feeling that I am also enjoying this new Present, a lot!
During this month it was magnificent to see the same (if not more) commitment from everyone to achieve the company's business goals, and at the same time being able to "create" time for several other things, such as celebrating our 20th anniversary (yes, it didn't went down quite like planned, but it was great in its own way), reinventing the way we promote everyone's well-being and happiness, with after-hours online events (with a glass in hand: D) or the children's hour (always with many surprises and smiles), sharing knowledge through remote training, brainstorming ideas for new products and services, or just to make everyone's lives easier during this period, and of course, with a sense of mission, we do everything within our reach to help those who fight for our lives every day.
When we have a team that really cares, everything becomes easier!
The world has changed, the way we relate to each other will certainly change, a lot, but as in all major crises, and yes, there is certainly one coming, we believe that we will have the ability to reinvent ourselves and become stronger.
At Present we believe that we are fortunate, as we have the chance to continue doing what we know, unlike many others who have been denied from doing so. Rely on us to continue contributing, as we keep in mind that our families need us, our customers and partners need us, our country needs us, the world needs us! At Present we believe that a better world is coming.
When we have a team that really cares, everything becomes easier!
We are Present because We Care.
Paulo Martins, Co-founder & COO
Related Posts
Comments are closed.