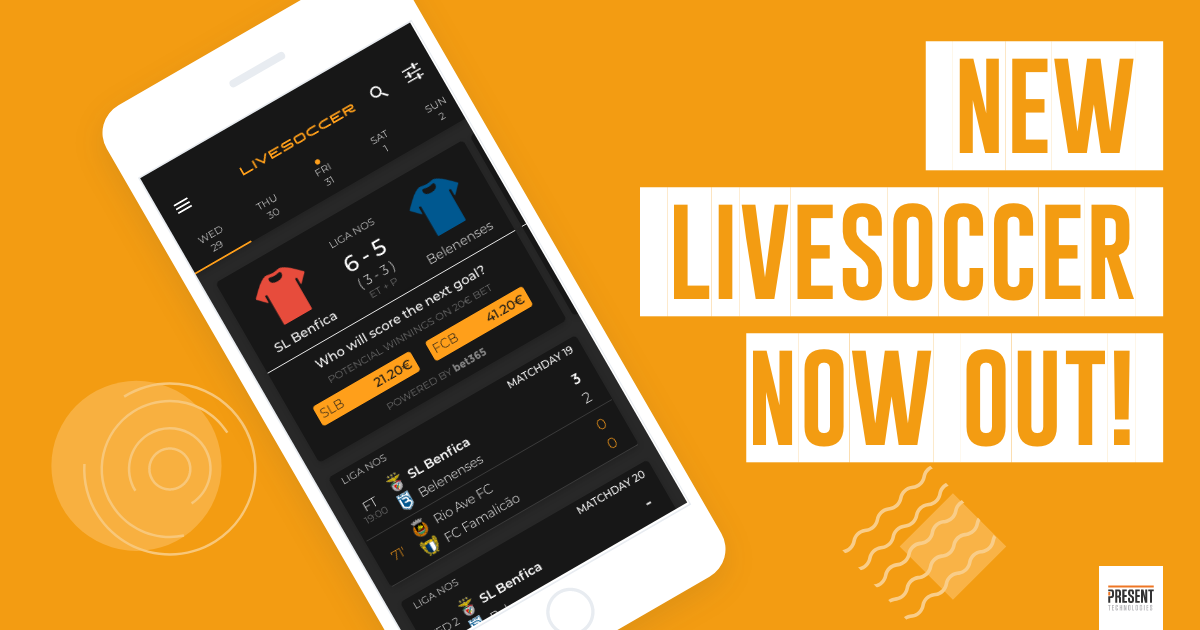 Present Technologies launches a totally revamped LiveSoccer app
Present Technologies launches a revamped LiveSoccer, a brand new and improved version.
LiveSoccer is an app that allows users to follow over 1000 football leagues around the world and get fully customized real time events. It started out in 2013 and has since had more than one million organic downloads in 228 countries and territories around the World.
In an effort to continuously improve the app and offer the best to its users, the LiveSoccer team worked on a brand new version of the app and it launched this week on Android and iOS.
"It is in fact a brand new app, totally redesigned on the outside as much as the inside" said Avelino Martins, Present Technologies CIO.
Apart from the visual redesign, there are new features such as near real-time video highlights for the main competitions, an improved home screen focused on the user's preferred teams and competitions, as well as several other personalization options in the app. The overall performance of the app has also been a priority in this new version, including a fine tuning of real-time notifications, one of LiveSoccer's most popular features.
"We listen to our users' constantly and have worked their feedback into this new and improved LiveSoccer.", said Fernando Jorge Teixeira, LiveSoccer Product Owner. He continued, "We wanted to bring LiveSoccer to the future and update its design, as well as all of its architecture so that it can bring football fans the best sports experience in the world".
LiveSoccer is available for free on Android and iOS.
Android: http://bit.ly/35wZ9iZ
Present Technologies, an IT company with headquarters in Coimbra and offices in Porto and Sertã, was created by a group of people passionate about technology and always looking towards the future. It is recognized for the quality of its results and commitment assumed with each and every project. Creating personal and intimate relationships has been the key to reliable, successful, and long-lasting collaborations.
We are Present because We Care.
Related Posts
Comments are closed.