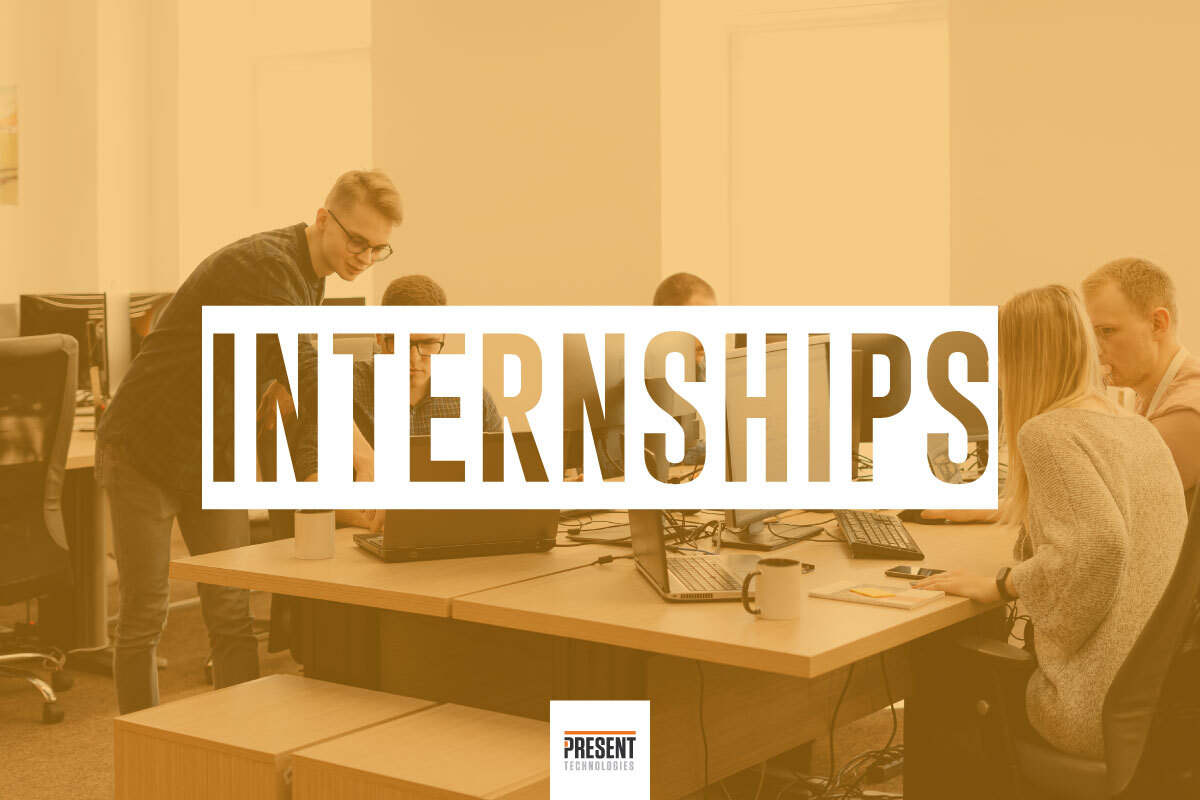 Internships at Present Technologies
Internships and training
are and have always been
a big part of Present Technologies since its inception. There are many people here now that were originally interns many years ago and have since become a big part of our team.
We bet on the future of every intern and give them all the tools at our disposal to help them grow.
Interns arrive at Present with all kinds of academic backgrounds, be it internships that are part of an academic degree or from career changing programs such as Acertar o Rumo and Switch.
Let's listen the interns themselves tell us all about the experience:
Being an intern at Present, I immediately felt I was becoming part of a family. I had great support from everyone to help me improve and there were tools always available to help me grow in IT.

—Joel Matos, recently finished internship at the Coimbra office
Internship at Present Technologies was a very enriching experience. Since the welcoming process until the code hands on, I always felt the support that helped me make through the initial bumps. The Internship provided me with the tools to path my way forward into a successful career at Present, making me a better IT professional and also a better human being.

—Bruno Costa, former intern, currently Team Leader
Present Technologies was always my first choice as an internship for Acertar o Rumo. I was welcomed by the team and always felt the support of senior colleagues all the time. From the beginning, I knew that I could have a successful career here.

—Ana Marcos, former intern at the Coimbra office
Interning at Present Technologies was my first contact with the real work world and it went beyond all my expectations. This internship was key to my professional development, but also personal growth. Some of the main moments that I recall were the easy integration in the company and the team that I worked with. I really felt they cared about me and my work, really making me feel Present's slogan coming to life: "We are Present because We Care".

—Ricardo Silva, recently finished internship at the Coimbra office
Coming from a safe academic environment, it can be daunting and intimidating to be thrown into a professional setting, where you're faced with real projects. PTech made it easy enough to be fun, but not so much that it wasn't challenging and a unique opportunity to grow and master new skills. The diverse team made every day a sheer joy, encouraging and supporting through thick and thin. I have no doubts that I wouldn't be the professional that I am today without PTech's empowering environment.

—Karolina Gonçalves, former intern at the Coimbra office
At Present Technologies I feel like I'm absorbing the foundation for how work is done in IT and also learning new technical skills with more experienced professionals. I also feel like I'm getting better at soft skills like communication, for example, as I gain more control and confidence. I'm motivated not only because it's a great company from a technical standpoint, but also because it's a company that cares about it's employees making them feel like family.

—David Silva, current intern at the Sertã office
It's very gratifying for everyone at Present Technologies to see these carriers blossom and  turn into outstanding IT professionals. Thank you to all our interns, current and past! 
If you are looking for an internship and new challenges, apply now!
Related Posts
Comments are closed.