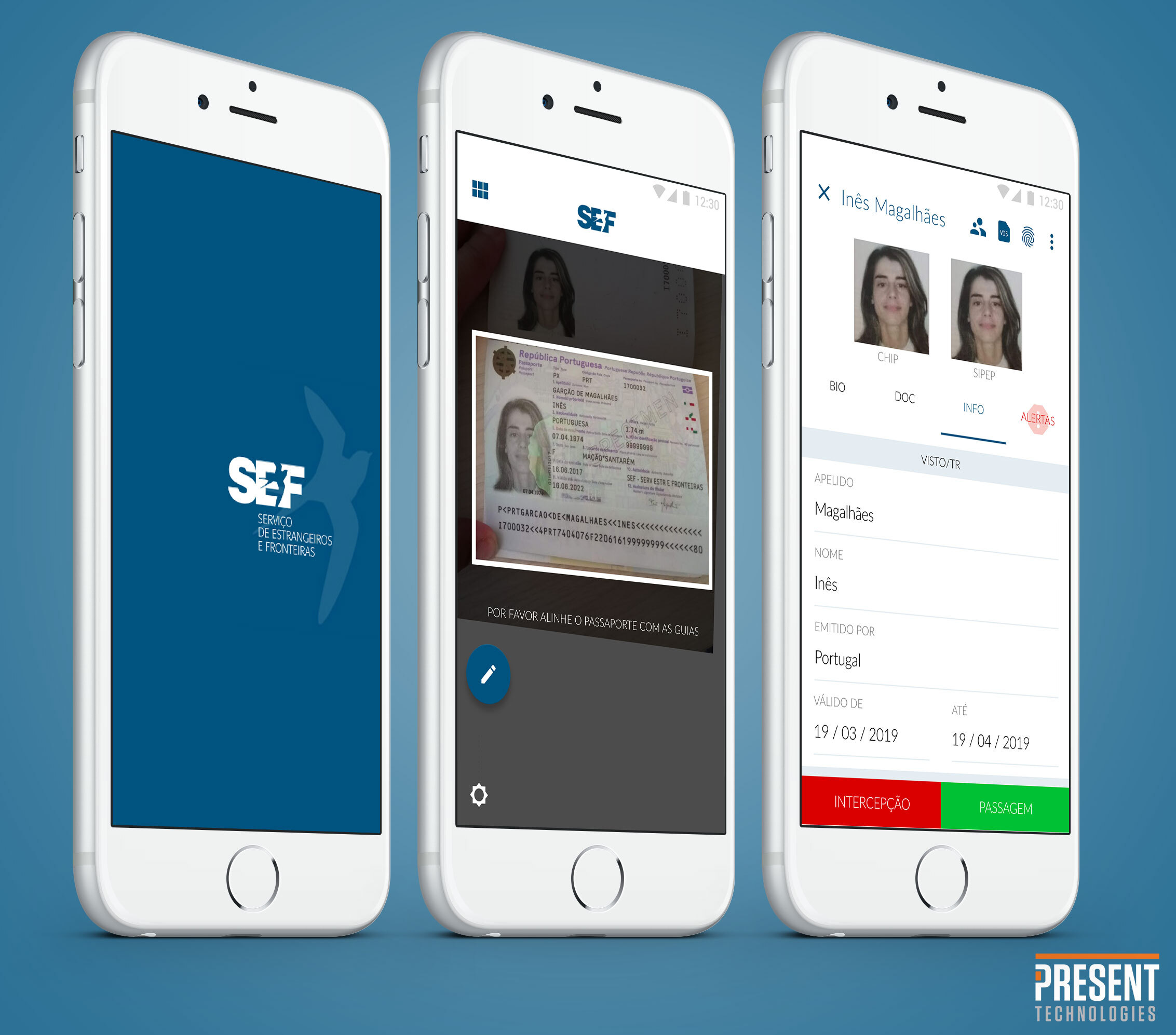 Press Release: Aplicação móvel inovadora já permitiu mais de 75 mil controlos de fronteira
Innovative mobile app has allowed more than 75 thousand border control inspections
Coimbra, 14th of May, 2020 – SEF Mobile, an innovative mobile app developed by Present Technologies has allowed SEF to conduct more than 75 thousand border controls and inspections in a more effective way using a touchless approach.
This innovative app, designed by Portuguese Immigration and Borders Service (SEF) and developed by Present Technologies, has been conceived to give a response to the new demand for more efficient and faster border control checks, imposed by new European legislation. At first targeted to airports and maritime borders, land borders became a new need imposed by the COVID-19 pandemic.
One month after the launch of the first version of the SEF Mobile app, over 75.000 citizens were controlled on the Portuguese land borders using a touchless approach, contributing to significant improvements in the efficiency of SEF inspectors and the safety of everyone involved in the operation.
Paulo Martins, COO and one of Present Technologies' founders, says "everything began on a Sunday, with a call from SEF, informing us that most certainly land borders would be controlled. Next, the ultimate question: could you rapidly adapt SEF Mobile in a way that it may be used in this new scenario? We took the challenge, and on the same day, we started to work on it".
Although the solution was already in the final stage of testing, it was necessary to make changes that allowed the adaptation to a new reality. The whole company had just started working remotely due to the pandemic, but with a true spirit of mission, it took two weeks so that, along with SEF, we could have a complete functional first version in the field.
Erica Santos, SEF inspector and responsible for the operationalization of the solution, says "SEF Mobile has become an essential tool to increase the efficiency and safety of SEF inspectors on the various land border posts. In a simple and effective way, it allows the gathering and validation of a set of data from several identifying documents, without the need for physical contact between said documents and the inspectors."
This was the result of excellent teamwork between Present Technologies and SEF, who both went the extra mile to make sure the app was swiftly available in the field. According to Hélio Freixial, SEF project manager, "overcoming this challenge wouldn't have been possible without the professionalism and availability of Present Technologies' team. Much more than a supplier, SEF found in Present Technologies a true partner."
Proud with one more contribution to minimize the effects of the pandemic, Present Technologies proves that technology is a strong ally in fighting some of the consequences imposed by these times we are currently living in: "sparing no effort to reach our goals, we contributed to a greater cause so that our country could be safer, and proved that innovation can be of great national utility. The first challenge of this new reality has been successfully overcome", said Paulo Martins.
For the development of SEF Mobile, Present Technologies partnered with other worldwide innovative companies using state-of-the-art technologies, like the Regula Document Reader SDK to extract data from identity documents, and Integrated Biometrics devices for fingerprint scanning.
Present Technologies, an IT company with headquarters in Coimbra and offices in Porto and Sertã, was created by a group of people passionate about technology and always looking towards the future. It is recognized for the quality of its results and commitment assumed with each and every project. Creating personal and intimate relationships has been the key to reliable, successful, and long-lasting collaborations.
We are Present because We Care.
Aplicação móvel inovadora já permitiu mais de 75 mil controlos de fronteira
Coimbra, 14 de Maio de 2020 – SEF Mobile, aplicação móvel inovadora desenvolvida pela Present Technologies, permitiu já, ao SEF, realizar mais de 75 mil controlos de fronteira de forma eficiente e sem contacto físico.
Esta inovadora aplicação, idealizada pelo Serviço de Estrangeiros e Fronteiras (SEF) e implementada pela Present Technologies, foi concebida para dar resposta à necessidade de controlos de fronteira mais rápidos e mais eficientes, imposta pela entrada em vigor de nova legislação europeia. Inicialmente focada nas fronteiras aéreas e marítimas, o controlo fronteiriço terrestre, imposto devido à pandemia COVID-19, veio criar uma nova necessidade.
Um mês após o lançamento da primeira versão da aplicação SEF Mobile, já mais de 75.000 cidadãos foram controlados nas fronteiras terrestres sem qualquer tipo de contacto físico, verificando-se uma melhoria significativa da eficiência dos inspectores do SEF, privilegiando a segurança de todos os envolvidos.
Paulo Martins, COO e um dos fundadores da Present Technologies, conta que "tudo começou num Domingo, com um telefonema do SEF a informar que já era certo que as fronteiras terrestres iam passar a ser controladas. Logo de seguida, a derradeira pergunta: Conseguimos adaptar rapidamente o SEF Mobile para que possa ser usado neste novo cenário? Aceitámos o desafio e, nesse mesmo dia, os trabalhos começaram!".
Apesar da solução já se encontrar em fase final de testes, foi necessário proceder a alterações que permitissem a adaptação à nova realidade.
Toda a empresa tinha acabado de entrar em regime de teletrabalho, devido à situação de pandemia mas, com um verdadeiro espírito de missão, foram necessárias apenas duas semanas para que, em conjunto com o SEF, fosse possível colocar uma primeira versão, completamente funcional, no terreno.
Tal como refere Erica Santos, Inspectora do SEF e responsável pela operacionalização da solução no terreno, "o SEF Mobile tornou-se uma ferramenta essencial para aumentar substancialmente a eficiência e segurança dos inspectores do SEF nos vários postos de fronteira terrestres do país. De uma forma simples e eficaz, permite ler e validar os dados de um conjunto variado de documentos de identificação, sem qualquer necessidade de manuseamento dos mesmos por parte dos inspectores."
Este foi o resultado de um excelente trabalho de equipa entre a Present Technologies e o SEF, em que cada uma das entidades fez os possíveis e impossíveis para colocar rapidamente o projecto no terreno. Segundo Hélio Freixial, Gestor de Projecto do SEF Mobile: "superar este desafio não teria sido possível sem o grande profissionalismo, disponibilidade e capacidade de sacrifício da equipa da Present Technologies. Muito mais do que um fornecedor, o SEF encontrou na Present Technologies um verdadeiro parceiro".
Orgulhosa por mais um contributo para minimizar os efeitos desta pandemia, a Present Technologies prova que a tecnologia é um forte aliado no combate às várias consequências impostas por este período que vivemos: "sem olhar a meios para cumprir os nossos objetivos, contribuímos para uma causa maior, para que o país ficasse mais seguro e, demonstrámos ainda, que a inovação pode ser de grande utilidade nacional. Primeiro desafio da nova realidade superado com distinção", refere Paulo Martins.
Para o desenvolvimento do SEF Mobile, a Present Technologies estabeleceu parcerias com outras empresas líderes a nível mundial, utilizando tecnologias inovadoras como o Regula Document Reader SDK para extrair dados de documentos de identificação, e dispositivos da Integrated Biometrics para a leitura de impressões digitais.
A Present Technologies, empresa sediada em Coimbra com delegações no Porto e na Sertã, foi criada por um grupo de pessoas apaixonadas por tecnologia e sempre a olhar para o futuro. É reconhecida pela qualidade dos resultados e pelo comprometimento que assume em cada projeto. Criar relacionamentos pessoais e de proximidade tem sido a chave para colaborações de confiança, bem-sucedidas e duradouras.
We are Present because We Care.
Related Posts
Comments are closed.